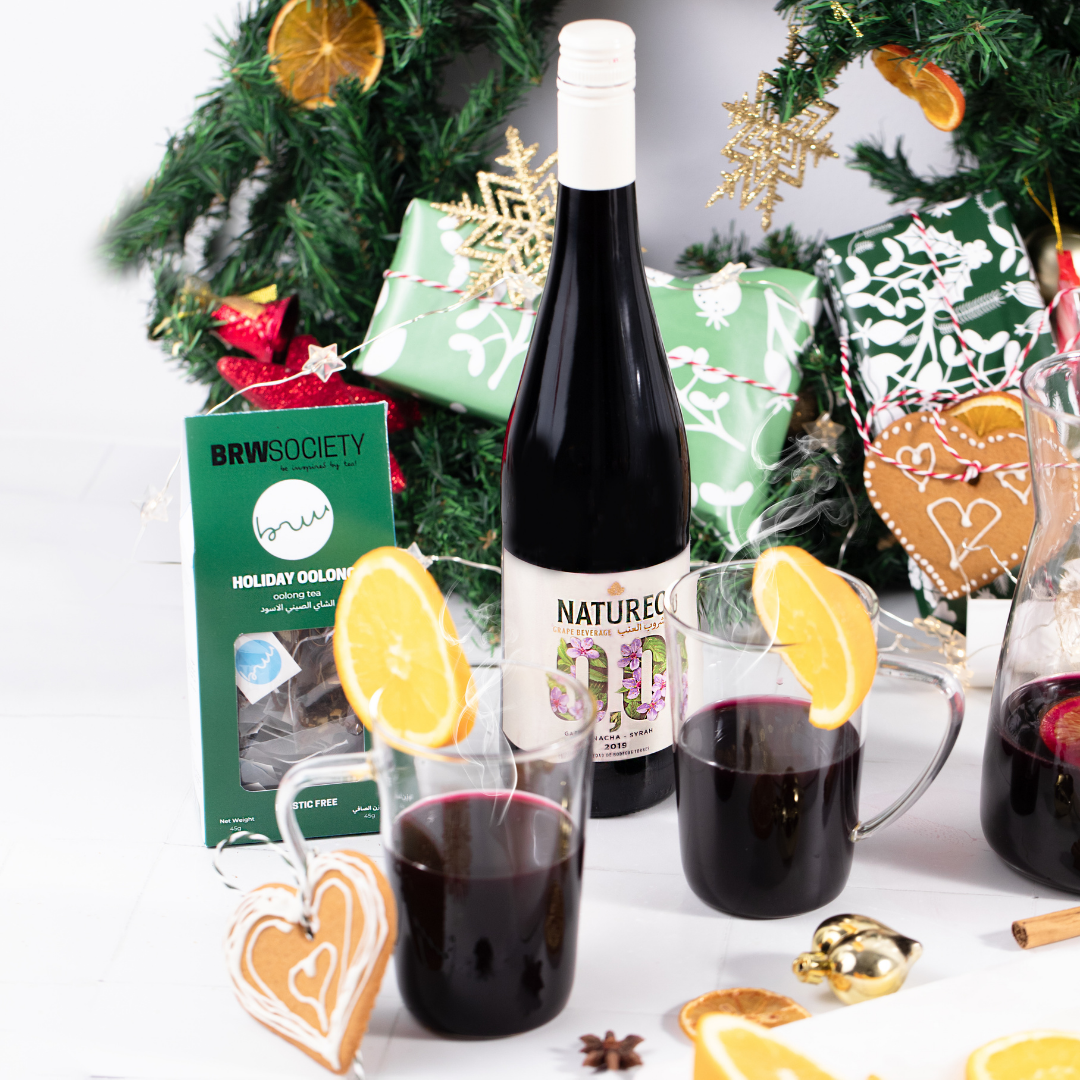 Holiday Oolong Mulled Grape Recipe
Oolong Mulled Grape is a delicious and warming drink that is perfect for the holiday season.
To spice up the recipe, we have partnered up with Drink Dry and will be using their non-alcoholic Natureo Syrah Grape.
Drink Dry is the UAE's first premium non-alcoholic drinks marketplace. If you are looking for a healthy alternative to sugary and alcoholic drinks, check out their wide range of offerings.
Now let's find out how to make the delicious and healthy BRW Society Holiday Oolong Mulled Grape Recipe.
Ingredients:
5 tsp BRW Holiday Oolong tea

1 bottle of Natureo Syrah Grape 750 ML

1 tbsp maple syrup

2 cinnamon sticks

2 star anise

2 Fresh Oranges (one to mull in the grape, one to use as a garnish)
How to make mulled grape?
To make mulled grape, simply...
1) Combine ingredients. Add all the ingredients into a sauce pan.
2) Heat until the grape almost reaches a simmer over medium-high heat. Avoid letting it bubble. Reduce heat to low, cover completely, and let simmer for at least 20 minutes.
3) Sieve and serve warm. Garnish with slices or orange.
Enjoy!
Let's get started
If you like the sound of a warming drink that tastes great and has health benefits too, you will love this BRW Society Holiday Oolong Mulled Grape recipe.
It's easy to make, refreshingly fruity with just enough sweetness. Mulling spices such as cinnamon brings aromatic warmth to the comforting flavours of the tea.
So gather up the ingredients and get started!