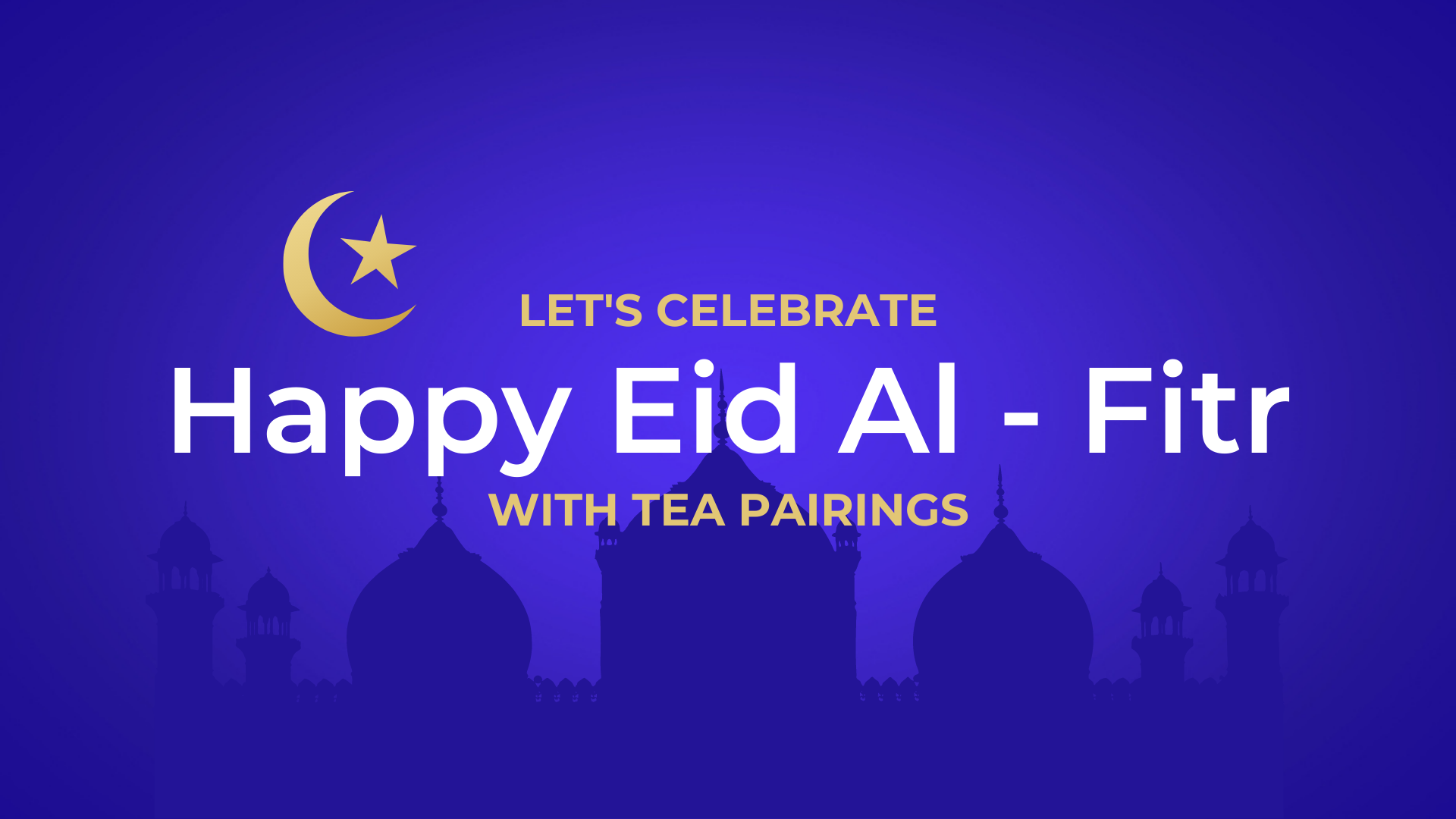 How to celebrate Eid al-Fitr with Tea Pairings
Eid-al-Fitr is the festive occasion that marks the end of the holy month of Ramadan. 
If you're looking for ways to celebrate this joyous occasion, why not try pairing your tea with delicious food and desserts? 
It will make your tea gathering special and WOW your guests. 
Here are a few ideas to get you started.
Eid Tea Pairing #1: Baklava with Chamomile Tea
Baklava is a rich, sweet pastry that is primarily made with layers of phyllo dough, nuts, sweet syrup and often butter is added to enhance the taste. 
It's the perfect treat to enjoy with a cup of Chamomile tea. 
The sweetness of the baklava pairs perfectly with the floral notes of the Chamomile tea.
Eid Tea Pairing # 2: Flaky and Mild Desserts, Sponge Cakes and Fruit Desserts with Organic Rose White tea
If you're looking for a lighter tea to enjoy with your EID feast, try BRW Society's Organic Rose White tea. 
It is blended using fine fragrant roses and is delicate on the body with a sweet pinch. 
The tea pairs well with flaky and mild desserts like sponge cakes and fruit desserts due to its sweetness and fragrant nature. 
Eid Tea Pairing #3: Machboos with Green Tea
Machboos is a popular dish, not only in the UAE but the entire Arab world. It consists of spiced rice and chicken or lamb. 
Some people also prefer adding other sorts of meat such as beef, camel, or even fish.
The spices in Machboos can be quite strong, so it's best to pair it with a light tea like our Green Tea. 
At BRW Society, we have a range of Green Tea with varying flavours such as Passion Fruit, Candy Floss, and the list goes on and on. 
So no matter how you prepare the Machboos, you will always have a Green Tea to pair with it.
Eid Tea Pairing # 4: Ouzi/Harees Meat Porridge with Black Tea
Harees is one of the most exquisite Arabian dishes. 
The main ingredients of Harees are crushed wheat, and minced meat (often chicken or lamb), along with the garnish of ghee, onions or olive oil.
Ouzi is a similar dish but is made with rice instead of wheat. 
Additionally, it features meat, usually goat or sheep, that is marinated in a medley of spices before being slow-cooked for hours. 
We recommend pairing Ouzi/Harees Meat Porridge with Black Tea.
Black teas are generally very robust and pair well with bold, rich foods such as beef, venison, lamb and Italian food.
Our Black Tea suggestions are  Organic English Breakfast, Organic Chai, and Earl Grey.
Eid Pairing # 5: Chocolate with Peppermint Herbal Tea
Who doesn't love chocolates on EID?
Chocolates are one of the best things to consume at any festival.
The creamy and rich flavour of chocolate and the minty, fresh and crisp flavour of peppermint tea seems to be a match made in heaven!
The pairing can help you unlock more flavours - both tea and chocolate suddenly seem more delicious when consumed together.
Plus, the caffeine-free herbal tea is a great way to stay hydrated during the long days of Eid celebrations.
Eid Pairing #6: Brownies with Herbal or Floral Tea
If you are planning to take your EID celebrations to the next level, brownies are the perfect thing to do so.
Brownies perfectly complement the boldness of tea and are sure to make your celebrations memorable for years to come.
Our recommendation is to pair the brownie in either of the two ways - either Herbal or floral tea.
BRW Society's light floral tea gives you a contrast of rich and delicate flavour. 
Additionally, you can pair the brownie with any of our wide range of herbal teas to enhance its taste and enrich your palate.
You can either have a bite of brownie followed by a sip of our delicious tea or dip it in any of the teas. 
Eid Pairing #7: Fruit desserts with Oolong Tea
Fruit desserts are a popular choice for Eid, and they can pair well with a cup of Oolong tea. 
Oolong tea is semi-oxidised, which gives them a unique flavour that is somewhere between green and black tea. 
The fruity, rich and creamy flavours of the Oolong tea will complement the sweetness of all sorts of fruit desserts, leaving your guests with little choice but to go for the pairing.
Eid Tea Pairing # 8: Eid Biscuits with English Breakfast Tea
Eid biscuits are everyone's favourite and the best part is that you can have them alongside any of the above dishes.
And when you combine the buttery biscuits with our English Breakfast Tea which is full of flavours as well as subtle sweetness, you create something which will make people instantly fall in love. 
Let's get the ball rolling
Eid al-Fitr is a time of celebration and togetherness.
What better way to enjoy this special day with friends and family than by indulging in some delicious tea pairings?
With less than a week to go before the festive season commences, it is the perfect time to prepare for it.
So go ahead and decide which of the pairing you would like to opt for and then place your order for your favourite BRW Society tea blend to get it in time.
Let's get the ball rolling!  Enjoy!