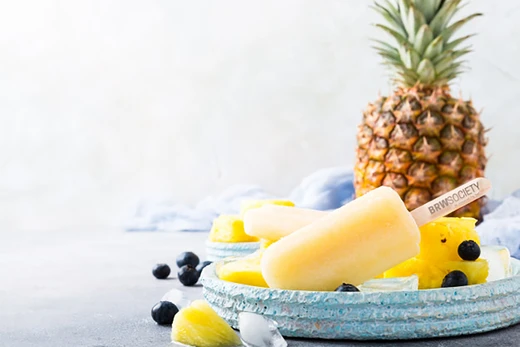 Prickly Cactus Lollipop Recipe
Prickly Cactus Tea Ice Lollipops – we're a sucker for you!
Prickly Cactus Tea Ice Lollipops – we're a sucker for you!
Oh…how we love making these tea lollipops and sharing them with our family and friends. They are a guaranteed crowd pleaser!
And not just that, these little beauties are dairy free!
Here's how to make these totally delicious tea lollipops using our 'Prickly Cactus' BRW…
Prep Time: 40 minutes
Total Time: 12 hours
Serving: 10 lollipops
What you need:
3 heaped tsp. Prickly Cactus BRW

400ml tin coconut milk

50g caster sugar

1 tsp vanilla extract

150ml cream

200g pineapple

Lollipop silicone mold (see Noon.com and Amazon.ae for funky shapes)

Wooden lolly pop sticks
Steps involved:
Brew the Prickly Cactus tea in 500ml of water (temperature 80°C), brew for 3 minutes.

Strain and leave cool for 10 minutes then pop the tea in the freezer for 30 mins to make sure it's completely cold.

Peel the pineapple and cut into thin chunks.

Whisk the coconut milk and caster sugar together until the sugar has dissolved, then add the cold tea and vanilla extract.

Whip the cream until stiff and fold it into the coconut milk mixture carefully.

Add pineapple chunks.

Pour the mixture into silicone molds and insert wooden sticks.

Freeze overnight.
After a more exotic taste…add a dash of white rum to the mixture before freezing. Enjoy!