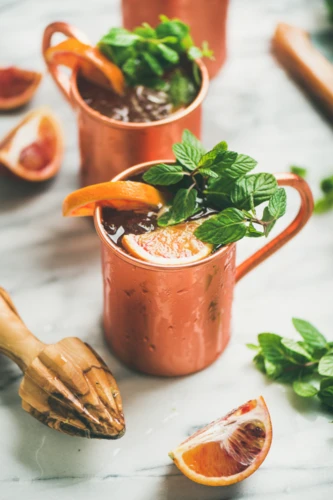 Looking to spice up your Tea Party? Why not try a tea-licious BRW Society cocktail recipe. Our Mango Madness Twist is tea-tally delicious and so simple to make!
Here's how to make them…
Prep Time: 30 minutes
Total Time: 30 minutes
What you need:
8 heaped tsp. Mango Madness BRW

1 Orange

1 Mango

2-3 Sprigs of Mint

2g F

resh Ginger

500g Ice Cubes
Steps involved:
Brew the Mango Madness tea and ginger in 1 litre of boiling water for 20 minutes.

Strain and leave the tea to cool.

Fill a large jug with ice cubes and pour the tea over it.

Squeeze out the juice of one orange and add to the cold tea.

Cut up the mango into small chunks and add it to the cold tea.

Garnish with mint before and serving.
After a sparkling cocktail? Then add your favourite Prosecco or sparkling wine. Enjoy!